Fulford's Antiques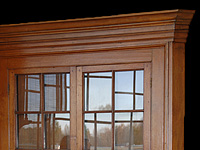 Antiques are objects of beauty. They are a combination of form and function and age. Buying an antique is an act of trust. Fulford Antiques has been in the business, wholesale and retail, since 1967. We have and we do work hard to earn and maintain the trust of our customers.
Located in the warehouse district of Wilson, North Carolina, we have built an inventory of thousands and thousands of antiques. We have filled two large warehouses with pieces collected from across the United States, England, Ireland, France and Scandinavia.
While we have specialized in Chippendale and Hepplewhite pieces, we have a large number of antiques in many different styles and finishes. With our complete custom wood shop and finishing room, we can do repairs, modifications and renovation of pieces so that they best fit your needs.
Our warehouses are open Monday through Friday. We are located at 320 Barnes Street in Wilson, North Carolina. You may contact us at (252) 243-7727 or at info@Fulfords.us